---
Als "PREMIUM Partnerbetrieb" können wir unseren Hausgästen ein SPEZIELLES EXTRA FÜR GRENZENLOSES URLAUBSVERGNÜGEN anbieten: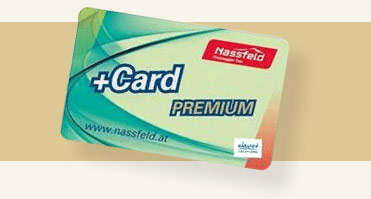 Über 40 Inklusiv- oder Vorteilsleistungen mit der "+Card PREMIUM"
Sie erhalten, ohne weitere Kosten, die "+Card PREMIUM" des Erlebnisraumes "Nassfeld - Pressegger See". Diese ermöglicht Ihnen die uneingeschränkte Benützung der "Nassfeld Sommer-Bergbahnen", den Zutritt zu Strandbädern am Pressegger See, Fahrten mit den Bussen in der Region, die Teilnahme an exklusiven Wanderprogrammen und Radtouren, speziellen, betreuten Kinder-Abenteuerprogrammen und vieles mehr.

Zusätzlich erhalten Sie noch zahlreiche, großzügige Ermäßigungen bzw. Vorteilsleistungen bei Ausflugszielen und Abenteuerprogrammen. www.nassfeld.at/card
Climbing and mountaineering
Nowhere can you get as close to the rock as in mountaineering and climbing. Feel the rock that gives you stability and enjoy the freedom in airy heights.
Numerous fixed rope routes for beginners and professionals on the Rosskofel, Trogkofel, Malurch, Zottachkofel and Garnerkofel are waiting to be climbed! As a reward for the summit victory, breathtaking views of the surrounding Alps await you.
Sport Sölle, in cooperation with the Sepp Szöke Alpine School, offers climbing experiences that go beyond the labyrinth of rocks. This is an ideal supplement to the previous programme and is designed as a further stage in mountaineering. All those who, for example, have already completed the rock labyrinth and are interested in gaining further experience in the rock are thus well served. Terms such as rope technique, top rope climbing, leading climbing, via ferrata with summit victory are offered.
Go Vertical offers your own climbing weeks, trial climbing, family trial climbing, Cayoning beginner tours and Alpine sport climbing tours as well as via ferrata tours (gorge climbing trails, Cellon tunnel, day tours and via ferrata weeks).
Climbing hall -
www-kle-sch.at